It's well known and through great sacrifice I've spent years testing the theory that spirits and cigars go hand in hand. A fine Scotch or Cognac can bring out the nuances of a cigar just as a premium smoke can enhance the flavors of your drink of choice. Two great pleasures in harmony with each other are what I call relaxation. This weekend I had the opportunity to sit back and do just that with one of my favorite bourbons of late and a Cuban regional cigar from Portugal.  My findings were interesting to say the least. Enjoy!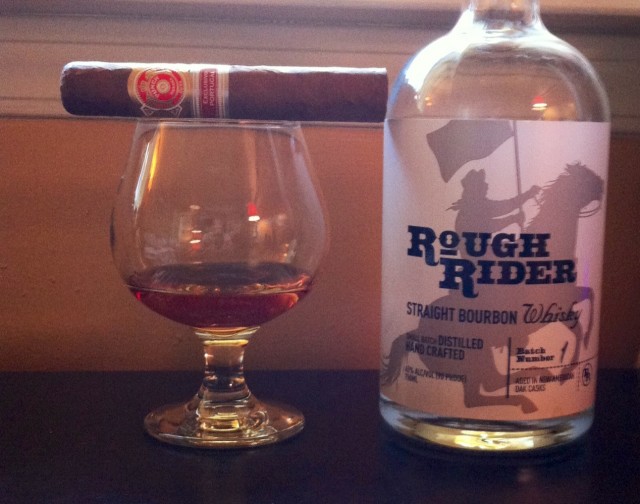 First, the bourbon:
Bourbon: Rough Rider- Long Island Distillers
Being a fan of this bourbon already I knew what to expect. Nose of sweet vanilla, toasted oak and the first sip hits you with some lovely cinnamon spice, and maple wood. The finish coats the palate with a butteriness that lingers on. Further tasting, the Rough Rider develops toasty notes with traces of candied fruits and some nice heat on the way down. The buttery finish along with the toasted wood are the lingering factors with this bourbon that keeps you wanting more. I am really looking forward to their next batch as soon as it hits the shelves. Long Island Distillers focuses on small batch releases so they can spend more time on maintaining quality. I've visited the distillery and it is quite a hands on and expertly run facility.
Cigar: Cuban Punch Descobridores Exclusivo Portugal
Blend specifics
4 7/8″ x 50
Wrapper: Cuba
Binder: Cuba
Filler: Cuba
The dry draw on this cigar has hearty flavors of fresh tobacco and an earthy quality. Upon lighting the full draw yields toasty notes with a bit of leather on the finish. The first third gives leather, earth and a bit of spice on the retrohale. Lots of rich tobacco taste which shows me the quality and care in the blend which doesn't always happen in regional cigars. A lot of ER's that I've smoked can be a bit of a crap shoot in terms of decent blends and properly treated tobacco.  This cigar has been a pleasant surprise and of exceptionally quality.  Midway the Punch offered more toasty flavors and graham cracker. The last third gave a salty taste with more of that full tobacco engulfing the palate.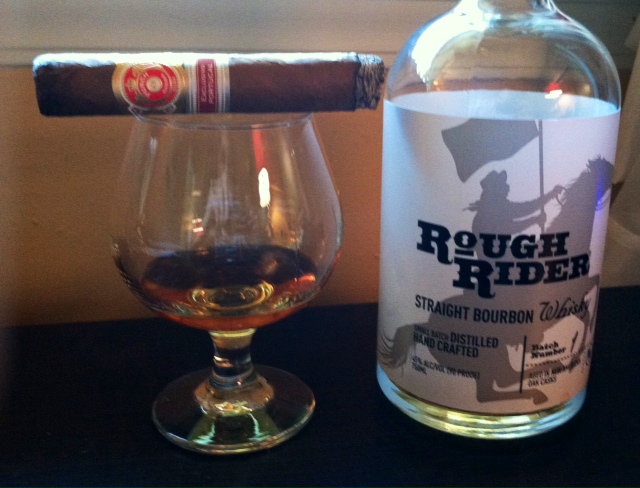 The Pairing:
As I drank and puffed the interplay with the spirit and cigar where quite appealing. The toasted oak of the bourbon further enhanced the Punch ER's lush and toasty tobacco flavor. The spice from the bourbon added a nice kick to the tobacco flavors.  The buttery finish of the Rough Rider bourbon balanced the savory leather notes of the cigar exceptionally. As the earthiness of the Punch came through the Rough Rider bourbon came back with that finished oak which took the cigar and spirit to another level of flavor and pushed them both to their peak performance. Both cigar and bourbon left me satiated with a resonance of flavors. A truly perfect pairing.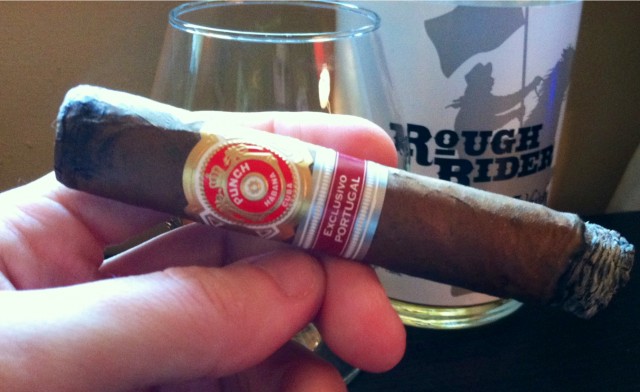 When I pick a cigar and spirit I try to go by what I know of both in terms of flavor and look for complimentary contrasts or balance. There are times like this when I haven't had the cigar and like I said with the ER's you don't know what you can or will get in terms of flavor and blend. Fortunately I struck gold with these two as they not only had balance but their contrasts raised the bar of both their flavor profiles. If you can grab this ER it's a worthwhile smoke and you should treat yourself to some Rough Rider bourbon even if you can't find a Punch Descobridores Exclusivo to pair with it. So, my strenuous efforts continue to support the theory that cigars and spirits work oh so well together. All In the name of science.