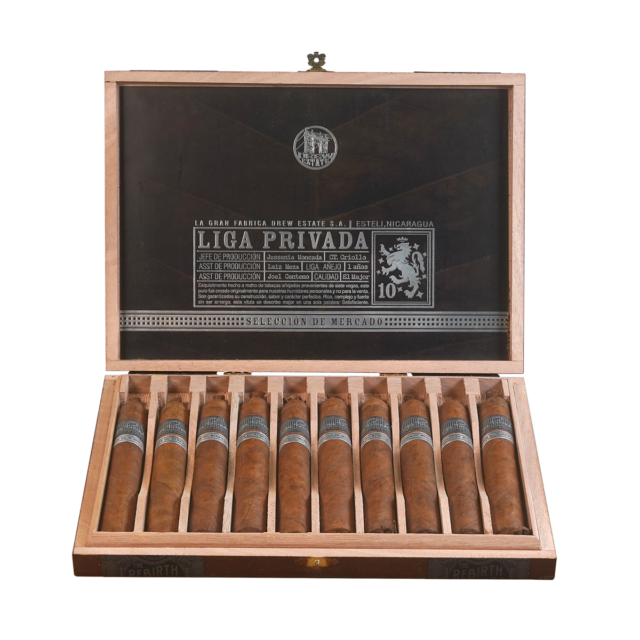 Drew Estate, a prominent name in the cigar industry, is gearing up to release an exclusive new variant of Liga Privada 10. This distinct expression is scheduled to be unveiled at the Intertabac Show in Dortmund, Germany, on September 14, 2023.
The "Liga Privada 10 Selección de Mercado," which translates to "Market Selection," pays homage to the time-honored practice of selecting wrapper leaves based on color for specific national markets. Sized at 6 x 52 (Toro), the cigar stands out due to its Connecticut Criollo capa leaf. Notably, this leaf, known for its unique characteristics, is cultivated solely for Drew Estate by a single farmer in the renowned Connecticut River Valley. To enhance the luxury quotient, only the finest rosado Connecticut Criollo leaves are chosen for the Selección de Mercado.
Jonathan Drew, the Founder and President of Drew Estate, emphasizes the global nature of this product launch. "Liga Privada is renowned for its intense, full-bodied, and earthy flavor, synonymous with the Connecticut River Valley's terroir. However, Selección de Mercado is conceived differently, aiming to offer an unprecedented Liga Privada experience tailored for the international palate. The uniqueness of the blend can be summarized as an authentic non-Cuban cigar that encapsulates similar flavor depths," states Drew.
Despite its robust flavor profile, the Selección de Mercado is crafted to be medium-bodied. The featured rosado capa is paired with a mix of Mexican capote and tripa tobaccos sourced from Nicaragua and Pennsylvania. This intricate combination produces a cigar that is not only richly balanced but also possesses refined espresso undertones, harmonizing with the earthy notes from the Connecticut Criollo. In terms of design, the cigar exhibits an unfinished foot and a distinct Cola de Pescado (fishtail) head, a touch by the craftsmen responsible for the Liga Privada 10 Aniversario. Connoisseurs can expect the Selección de Mercado to be available in boxes containing ten pieces.