Unlike other articles outlining the best places to buy cigars online, this article also goes into detail on online cigar stores to avoid. That's important, because there are some truly terrible websites to purchase cigars from, including companies that have terrible service or are straight up scams. 
So how do I determine the best websites to buy cigars online? After 10 years of personally ordering from a number of retailers, the most important components of a cigar store are customer service, price, selection, quality, and the usability of the website. 
Now, without further ado…
The Best Websites to Buy Cigars Online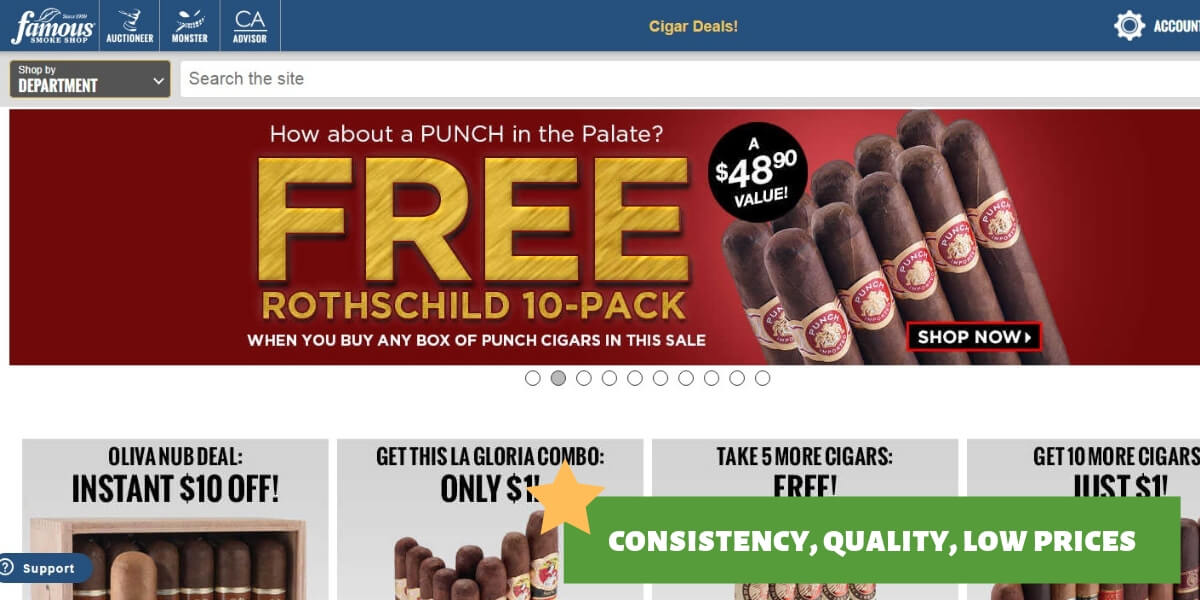 Famous Smoke Shop was the winner on my original list back in 2016, and it remains there to this day. First, although not perfect, the website is easy to navigate, has a modern and mobile friendly web design, and makes it easy to sort product by price, brand, country of origin, ring gauge, strength, and more.
Second, after a number of years of making large and small purchases with Famous, I've never had a bad order—never late, never any dried out product, no bait-and-switch orders, etc. And when I have needed customer service (to change shipping addresses, etc), their customer service department has been friendly and completely on point.
Third, Famous Smoke Shop still maintains Cigar Monster, which is a newer take on the old deal-an-hour fad of the early 2000's. The benefit there is they have five packs of major brands that are discounted 20%-30%.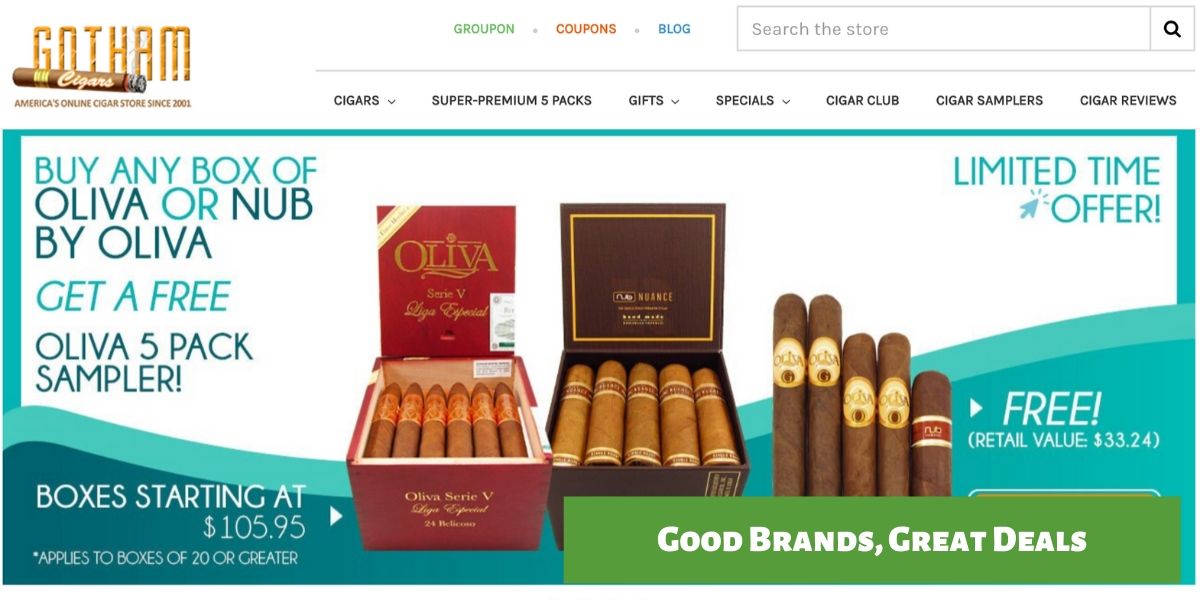 Gotham Cigars comes ranked as the number two online cigar retailer for a couple of reasons. First, the websites does a good job of appealing to a broader arrow of cigar smokers, including those looking for cheaper, machine made cigars (which are all of their top sellers). Second, the website is very clean and easy to navigate, which might not sound like a big deal but if you've ever tried to shop on some of the more archaic cigar websites (*cough* Cigar Auctioneer *cough*), you'll know that having an easily navigable experience is a big plus.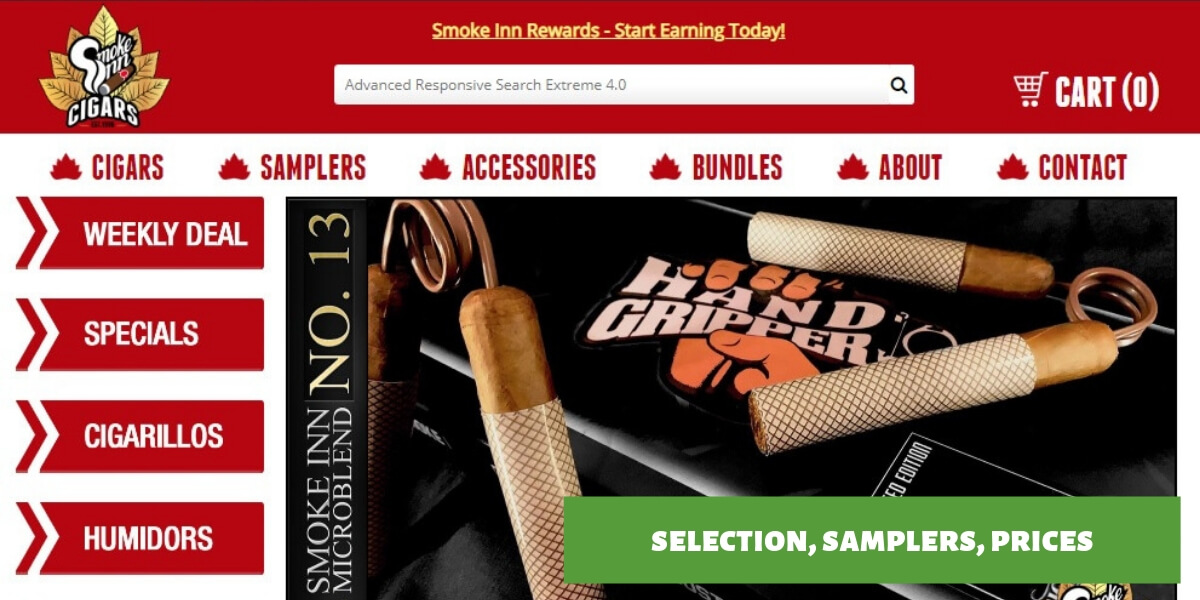 When I wrote my last ranking in 2016, Smoke Inn was a runner up, with the caveat that its web design needed some work. Well, somewhere in the last two years this site upgraded. It still isn't 100% intuitive to navigate, but the product pages are slimmed down and much easier to understand than most other online cigar retailers.
Two other reasons Smoke Inn makes the list. First, they have the standard cigar selection, and second, they also have a huge selection of boutique smokes (good gifts for the enthusiast in the family).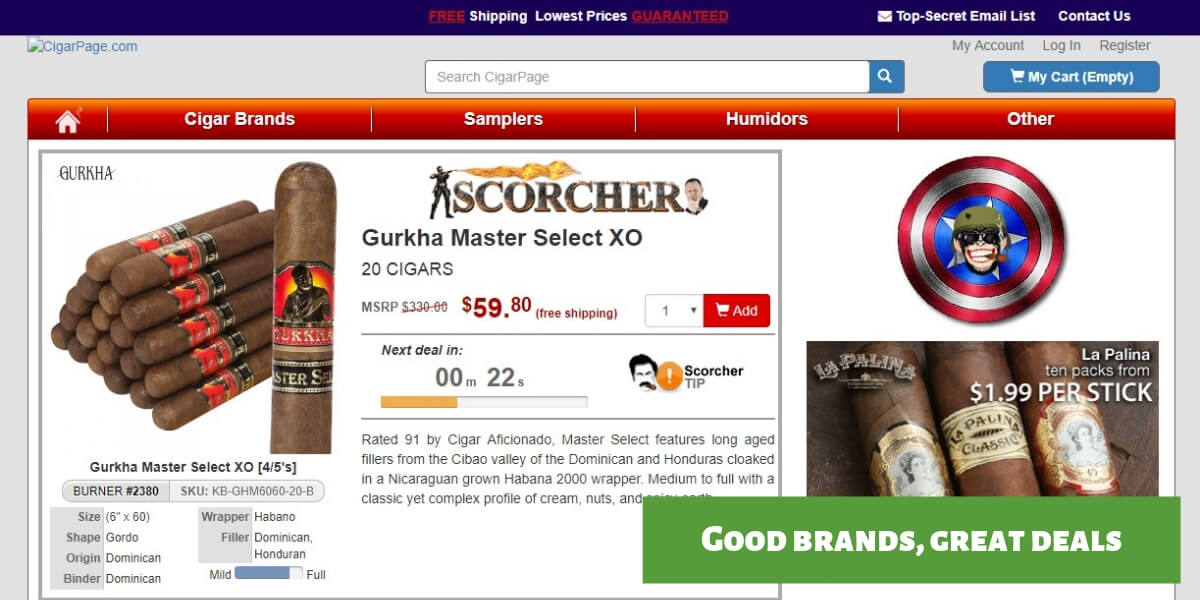 Cigar Page's slogan is "A smorgasbord of cigar deals," and boy does it deliver. The website specializes in five and ten packs from major brands, and really does have excellent deals. I haven't purchased from this website personally, so I can't vouch for the quality of the product, and hence why I strongly recommend Famous Smoke. But some of the deals are impressive, so if you're a current cigar smoker it's a website to look at.
And now, with the best websites out of the way, it's time for…
The Worst Websites to Buy Cigars Online
If you're going to buy cigars online, you need to know that there absolutely are retailers to avoid. Here are the cigar retailers you should pass over in favor of our recommendations above.
Thompson Cigars
I hate to say it, but even after writing my first article on online cigar stores more than five years ago, Thompson Cigars still hasn't improved their reputation much. True, they have a A+ rating on Better Business Bureau, but if you look at the reviews page, you'll find negative review after negative review. They seem to have a reputation for signing unsuspecting shoppers up for expensive monthly subscriptions without their consent, which is, you know.. Bad.
I don't have first hand experience, but here are some of the comments on my previous post about Thompson:
"Please avoid Thompson Cigar…they did exactly what you said they would do…Back in the summer my boyfriend spoke to them about starting a monthly subscription starting September 11 2017…and told them he would call them first before he wanted his card charged…Well on September 1 2017 they went ahead and charged his card….he immediately called them and told them to cancel it….after all kinds of back and forth they refused to cancel the order and we would have to wait until after he received the cigars then call them back to have a return slip sent to him…2 months later he was still waiting, he finally got it after several months but at that point decided to keep them, which I'm sure was done deliberately so he did keep them…well they got $120.00 but he won't ever purchase from them again…Thank you"

"I placed an order online with Thompson Cigar and within half an hour cancelled it. I received an email acknowledging the order was cancelled. Much to my surprise, I received an email telling me it had shipped. When I called their CSC line, I was told there is nothing that can be done (is the CSC out of the country?) I usually order from another large online vendor but they did not have what I wanted to send and had heard good things about Thompson. My mistake and will not order again. Consumer beware."

"Thompson's cigar club is a nuisance, as are their pushy sales people!"
Cigars International
Cigars International on my worst list boils down to the fact that they still have an F rating with Better Business Bureau. The rating is largely due to an IT issue that surfaced in February 2017 that resulted in thousands of customers being charged for orders that then had extreme delays in delivery. You can read the ground floor from the consumer point here. The problem has mostly been fixed, but I've still seen reviews surfacing around the internet from customers who are still reporting problems. 
CigarBid
Cigar Bid was actually on my "best" list in previous years, but due to my own personal experience they are now on my worst list. Cigar Bid is certainly a website to get good deals, but I've found a number of my orders were delivered with dry cigars inside. Cigars that aren't humidified are mostly ruined, so this is equivalent to getting a box of wine bottles that have oxidized and turned into vinegar. Second, I had one order placed where I was then told they didn't actually have the product in stock and would be sending me something else. 
If you want a full breakdown between CigarBid and Cigar Auctioneer, read my detailed breakdown here.
Solo Cigars
I've never purchased through Solo Cigars, but I've read on countless internet forums now that, not only do they sell fake Cuban cigars, but they've also been involved in creating fake accounts on popular cigar forums to try to get people to change their mind about the retailer. Just google their name and look at result 2 – 10. You'll get the idea. Key point here is: always check the reputation of any cigar retailer you purchase from. Just google their name and add "reviews".
Do you have a favorite cigar retailer that should be on this list? Or, if you have a question about a cigar retailer, or a comment (good or bad), drop it in the comments section below.
Affiliate disclosure: when you purchase something using the retail links on this or other Fine Tobacco NYC pages, we may earn a small commission. Our opinions remain our own!