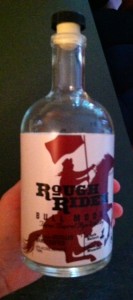 From the brainchild of Richard Stabile of Long Island Distillers makers of LiV vodka, Rough Bourbon and Pine Barrens Single Malt comes one of the best Rye's I've tasted all year. What makes this rye so special is its aging and select finishing in wine barrels. The spirit is first aged for a minimum of four years in newly charred American oak casks. After aging it's then finished in selected merlot and chardonnay casks. The result is a rye with a tremendous depth of flavor and a lingering finish. Speaking of "finish', I just finished another bottle myself and the results are thus. Enjoy!
APPERANCE: A light copper color with legs that scurry down the glass. Swirling gives a nice feel of the depth of the spirit within.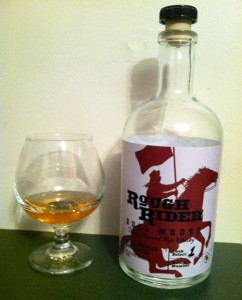 NOSE:  Initial flavors of oak, vanilla and spicy heat emerge. Second nose gives toasted wood, bread and some dried fruits.
TASTE: First sip is buttery with apricot some caramel and "merlot" flavors in its expression. The mouth feel is rich with flavors that demonstrates its balance. Both sides of the cheeks are coated with butter and spice that caress not overpowers the senses. The finish goes on forever with a velvety texture and flavors of caramel, toasted oak, butter and heat all at once. This is one of the most balanced and complex Rye's I've tasted.
CONCLUSION: With Bull Moose Three Barrel Rye Long Island Distillers has produced probably my favorite spirit to date. This Rye delivers a cacophony of flavors on the palate and lingers on and on. This exceeded my expectations of rye and what can be done with it. The finishing in wine casks creates tastes and nuances that makes this a true sipping spirit. I've enjoyed most everything Rich Stabile has been putting out as of late but if I had to venture off with the "Rough Riders" and could bring only one spirit, this would be the bottle that I'd saddle up with.
Website: http://www.lispirits.com/front_page.php?msgerror=fail