After a blistering long cold week, I looked forward to hanging out with some old friends and meeting some new ones at Refugio's first "Sip and Smoke" of 2013 with David Bailey and David Alicea – hosted on Friday, January 25th. Those that battled against the weather were rewarded with drinks, cigars and good times. It pays to be early and this event was no different. Early birds were there to grab the best seats and get first picks on cigars, raffles and sales before they're sold out. As the people started coming in so did the wide array of spirits. Scotch, Rum, Brandy..it was all there for us to taste and enjoy as David accurately described each one.
Our very own David Alicea dissected the Arandoza Cigar line in detail describing all of their flavor characteristics. David also did an awesome job on a cigar cutting and lighting refresher course for those new to cigars. A huge 50 count Humidor was raffled after the Sip & Smoke with proceeds going towards a upcoming fundraiser called "Cleats4kids". The raffle and after event was put on by New York's Grown & Sexy in the City Cigar Group. We stayed till morning conversing among new and old friends, enjoying fine spirits, stogies and making memories.
Thanks for all who came out and we look forward seeing you again soon. Photos are below!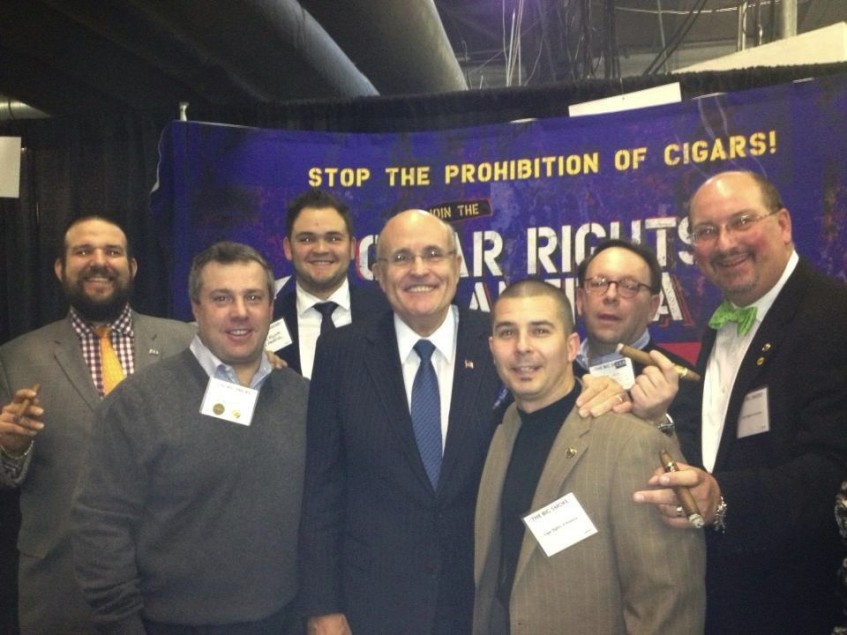 Hello smoke fans! Big Ronnie is back and today, we're talking about herfs. What's a herf? Good question. While performing my normal Google-research for this post, I was unable to find any real, legitimate sources online who actually acknowledge this term.
The best I could find was from urbandictionary.com, their #1 definition:
"A herf is a gathering of BOTL and SOTL to relax, unwind and smoke premium cigars. You won't find any drug store cigars at a herf!

A herf can be as simple as two BOTL getting together for a smoke after work or it can be a full blowout with music, food, games, etc.

The main theme of any herf is relaxation and camaraderie, everything else is secondary – even the cigars."=
BOTL = Brother of the leaf (Male cigar enthusiast)
SOTL = Sister of the leaf (Female cigar enthusiast)
I don't LOVE that definition. Considering that I don't see Merriam-Webster, or American Heritage adding it to their annual new words lists, I think I'll attempt to rewrite it for our readers.
Herf: Noun
Definition by Big Ronnie
A herf is a gathering, party, occasion, get together, etc. where cigars are enjoyed. A herf can be mobile, and has no other rules.
I myself have herf'ed (past tense) on golf courses or backyard BBQ's & birthday parties where a few guys steal away and enjoy a smoke. I've even been part of an impromptu herf at my crazy Cousin Al's wedding.
Herfs (plural) are a good time because they involve cigars and cigar enthusiasts. Some herfing (adjective) happens without much planning, while other herfs are large, ritualistic annual events like Cigar Aficionado's Big Smoke NYC, which was held on 11/29/12.
Whatever you choose to call a herf, make sure you fill it with friends, good times and premium hand rolled cigars. FineTobaccoNYC hosts herfs all the time – here are a few photos:
EVENT CALENDAR
Our event calendar here at FineTobaccoNYC is the most comprehensive in the New York area.
UPDATE: A fellow BOTL forwarded me his post from '09 about defining the term Herf. Take a look here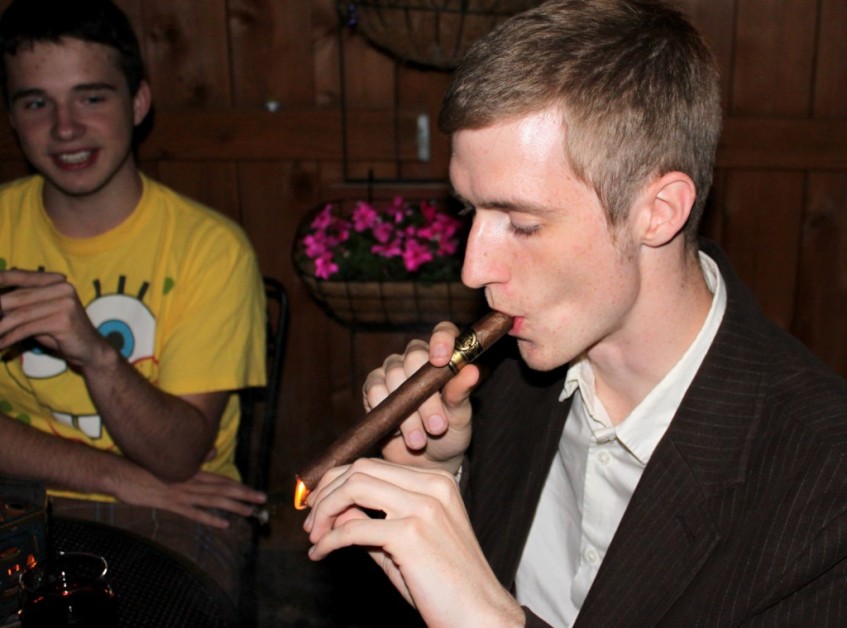 The popularity of private cigar smoking is increasing – more are willing to smoke in their apartments or homes (given the right ventilation), since they often cannot smoke in parks, beaches, and other public spaces.  It has also led to a rise in social cigar events at home.
How can those without public places to smoke have better smoking experiences? A handful of Canadian readers here have asked what to do since smoking is near impossible to do indoors, and outdoors is cold. So here are a few suggestions for having good HERFs at home.
What do you do while hanging out and smoking with friends? If you have a unique suggestion or idea, drop it in the comments section below, or tweet us @finetobacconyc.

On Saturday, June 18th, cigar smokers from around the city came out for the FineTobaccoNYC Financial District HERF, sponsored by Antonio Lem and Reinado Cigars. The event ran most of the day, from 3pm in the afternoon to 11pm at night. We had to reschedule from Friday because of stormy weather, and am I glad that we did! The weather on Saturday was a gorgeous 80 degrees with just enough clouds and a slight breeze. The view from 350 feet was spectacular, and the smoking was great. You can find all of the pictures on our Facebook page.
The crowd was a great mix, so everyone who came made new friends and smoked with old ones. Kevin Bristow and others from New York G&S showed up as well. Take a second and check them out on Social Cigar!
FTNYC members brought their best sticks, and Dave Alicea blessed future FTNYC events with a beautiful porcelain San Cristobal ash tray. I could tell the event was fully underway when we had to empty the ash trays three times to accommodate all of the ash! Throughout the day there were at least 25 FTNYC members that showed up to the free event.
Antonio Lem from Reinado also showcased his uniquely fermented Nicaraguan puro cigars. When you get a chance, head over to his website and pick a few up. His cigars have gotten great reviews, and after smoking a few (including the one I'm smoking now), I can say that they live up to the reviews.
FineTobaccoNYC events are open to smokers of all ages, backgrounds, and experience. You can follow FineTobaccoNYC on Facebook and Twitter for details on events, but for event specifics and invites, sign up for our event mailing list on the upper right side of this page!
Until the next event (this Friday!), long ashes and happy smoking!
~Matthias