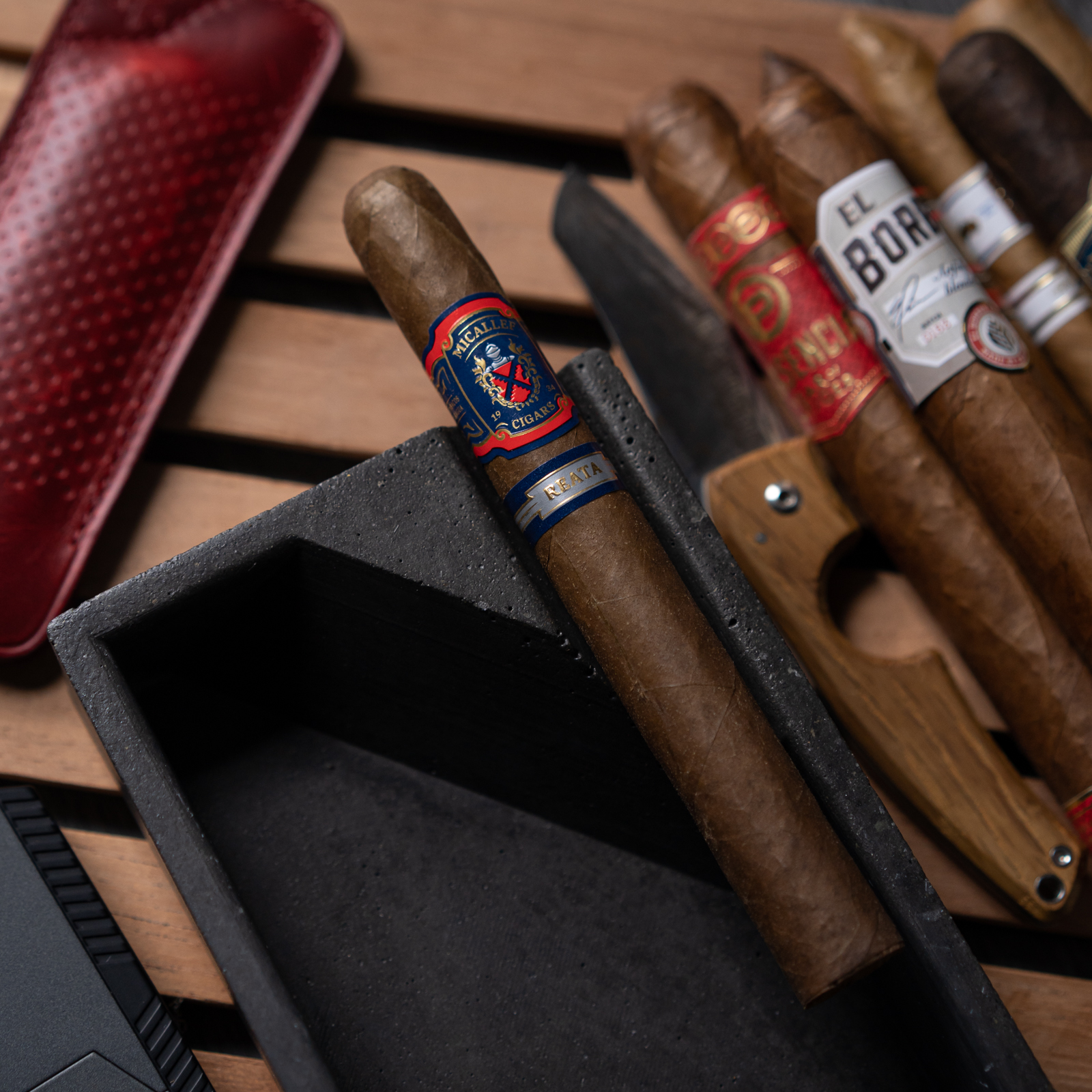 Al Micallef of Micallef Cigars has placed a lot of emphasis on the quality and construction of his cigars. I have been fortunate enough to smoke several lines and they always deliver in that area. The Reata line is a unique blend for the company using a San Andres Sumatra wrapper with an Ecuadorian binder and Nicaraguan filler. One of my favorite size cigars is the corona as I find it a great example of filler to wrapper ratio in which I can best taste the blend–so it's great to see the company releasing Reata in this size in 2022.
Blend Specifics
Cigar Reviewed: Micallef Reata Corona
Wrapper: San Andrés Sumatra
Binder: Ecuadorian
Filler: Nicaraguan
Size: 6"x 46 (Corona extra)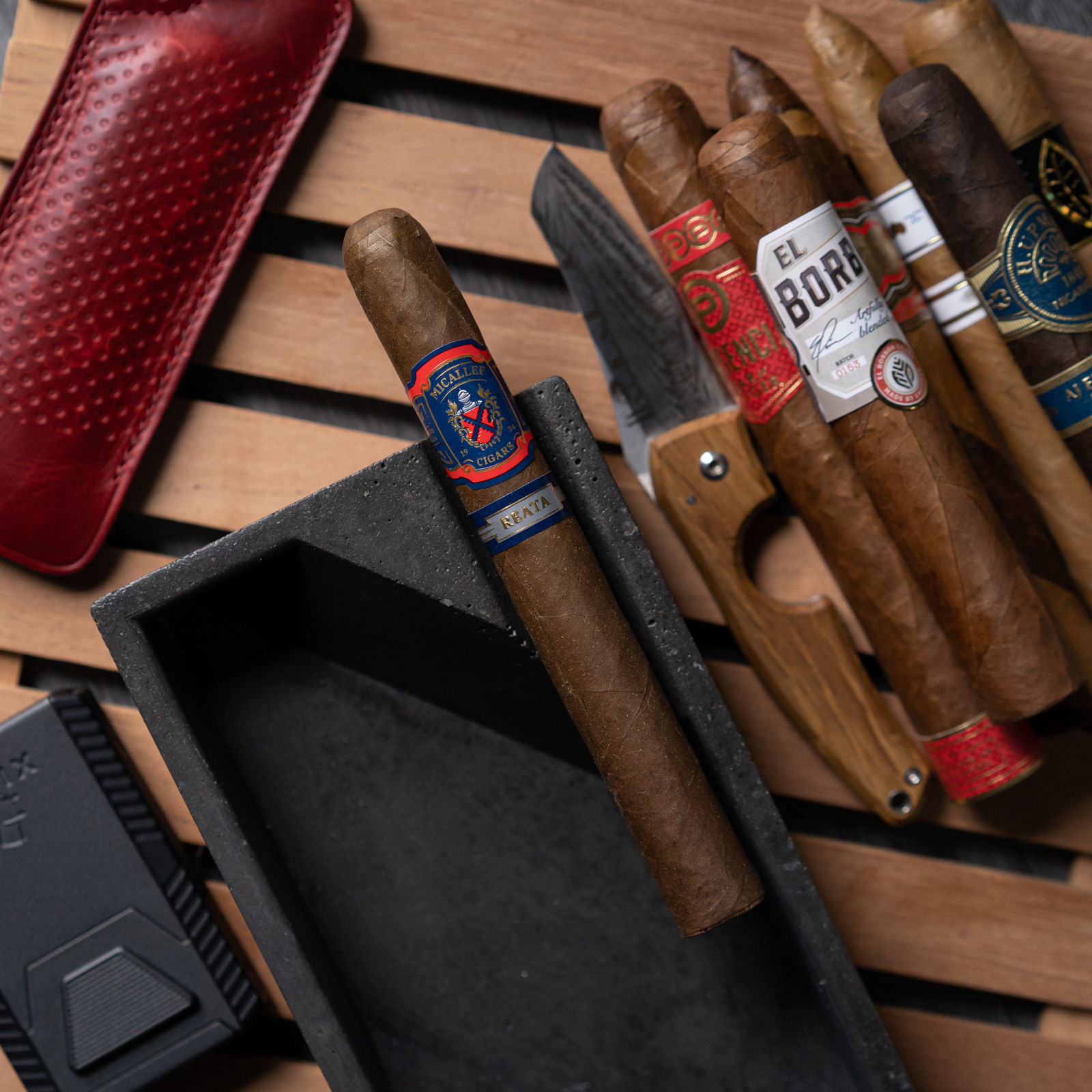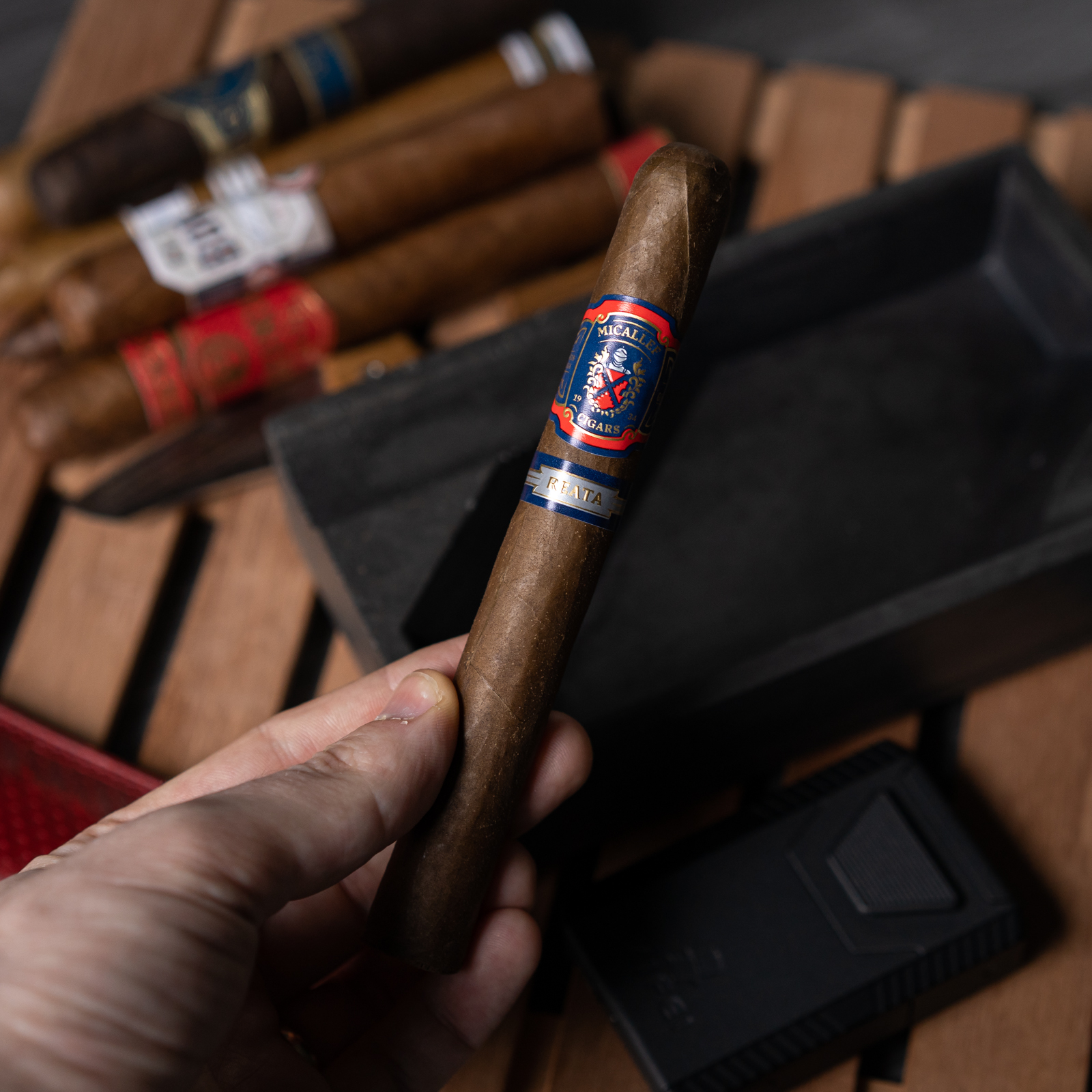 Blind Review: Micallef Reata Corona
Appearance & Construction
This a dark oily wrapper that is smooth to the touch. There are a few long veins running along the sides and as I press the smoke, I cannot find any underfilled spots and am pleased to see that it is packed well. Visually the sheen is appealing and as I smell the foot earth and cinnamon dominate with an aroma that tingles my nostrils.
Flavor & Smoke Characteristics
My Xikar scissors take a precise clip off the head leaving a clean cut. The cold draw gives impressions of cashews, raisins, and dried dark fruits. With a soft flame I toast the corona and upfront there is cinnamon graham cracker with some vanilla bean. Once lit, the cigar starts off with lighter, milder flavors and the retrohale brings more vanilla to the olfactory with a bready finish. The ash is whiter than gray at present with a razor straight burn line. The draw has just the right amount of resistance that helps to bring out the filler tobaccos quite succinctly.
The smoke builds in the middle of the cigar and I am picking up salted pretzel combined with savory notes on the sides of my mouth. There is a distinct vanilla bean followed by cream that finishes short as I take a slow draw. The retrohale delivers cinnamon, coffee, and earth while I exhale. The body continues to be in the medium range while the ash holds firm attesting to the impeccable construction. As the finish lingers longer than before there's gingersnap that tingles on the tip of my tongue. The body builds a bit and gains strength with rich tobacco that falls short as quickly as it comes through.
Not veering too far from the initial flavors, another puff on the last third delivers more vanilla and graham cracker with a drying sensation on the palate. There are biscuit and bready qualities that while come on strong upfront do not last long on the end. I'm enjoying the flavors yet wish there was a bit more complexity from this smoke. The retrohale has some all spice with wood notes that generate a surprising amount of smoke as I exhale. I am impressed how well the burn line has stayed straight throughout and the body has been mostly medium only slightly becoming full. Taking a final draw, the wood and cinnamon come on strong leaving me with a longer finish than previously.
Conclusion
I am a big fan of this size. I feel it can bring out a nice balance from a blend. While I enjoyed the graham cracker, cinnamon, and vanilla notes, I found the Micallef Reata Corona a bit linear as it never deviated far from those flavors. The construction was excellent and delivered a pleasant smoking experience throughout with a wonderful draw and burn. The finish was short which left me wanting more from those sweet and savory flavors.
I was not surprised to find out this was a Micallef cigar given the quality and construction I've experienced with so many Micallef cigars. I would recommend picking up one or two as it is an enjoyable straight forward cigar that you do not have to think about too much.
Final Rating 88