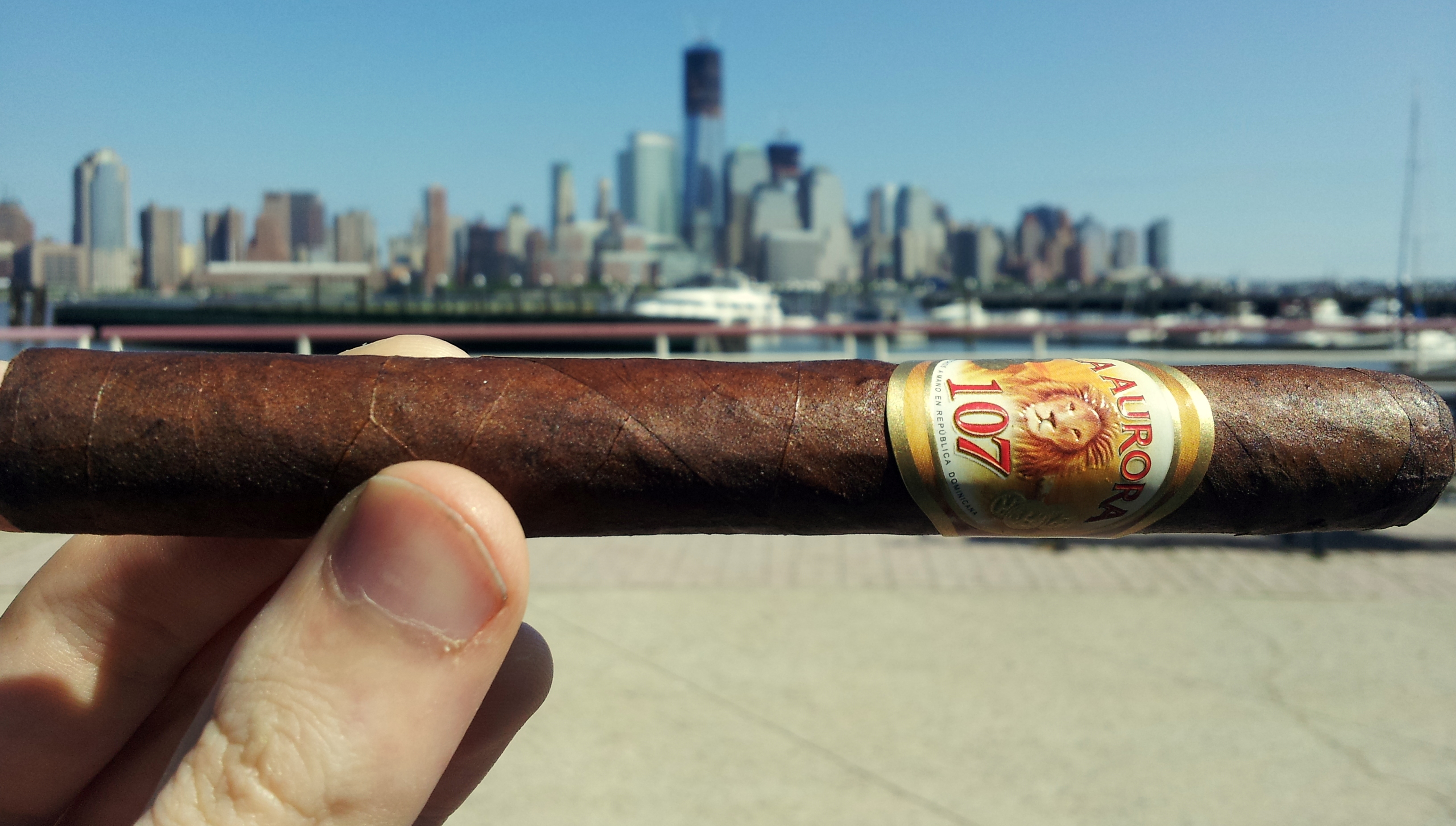 In the work of anyone reviewing cigars, chances are you'll find yourself with many great cigars to choose from. In over a year and a half, I have, to my great shame, never reviewed a La Aurora cigar. So, after stocking up on a few of their sticks, my first up for review is the La Aurora 107 Corona. The 107 is somewhat legendary among seasoned smokers, and now I can say I know why. And now it is my pleasure to explain the reasons from my perspective.
The setting for this review will be hard to beat. A beautiful early-summer day with a gorgeous view of the Manhattan skyline, Buena Vista Social Club in the background, and a hot cup of coffee all combined to make this a memorable experience.
Blend specifics: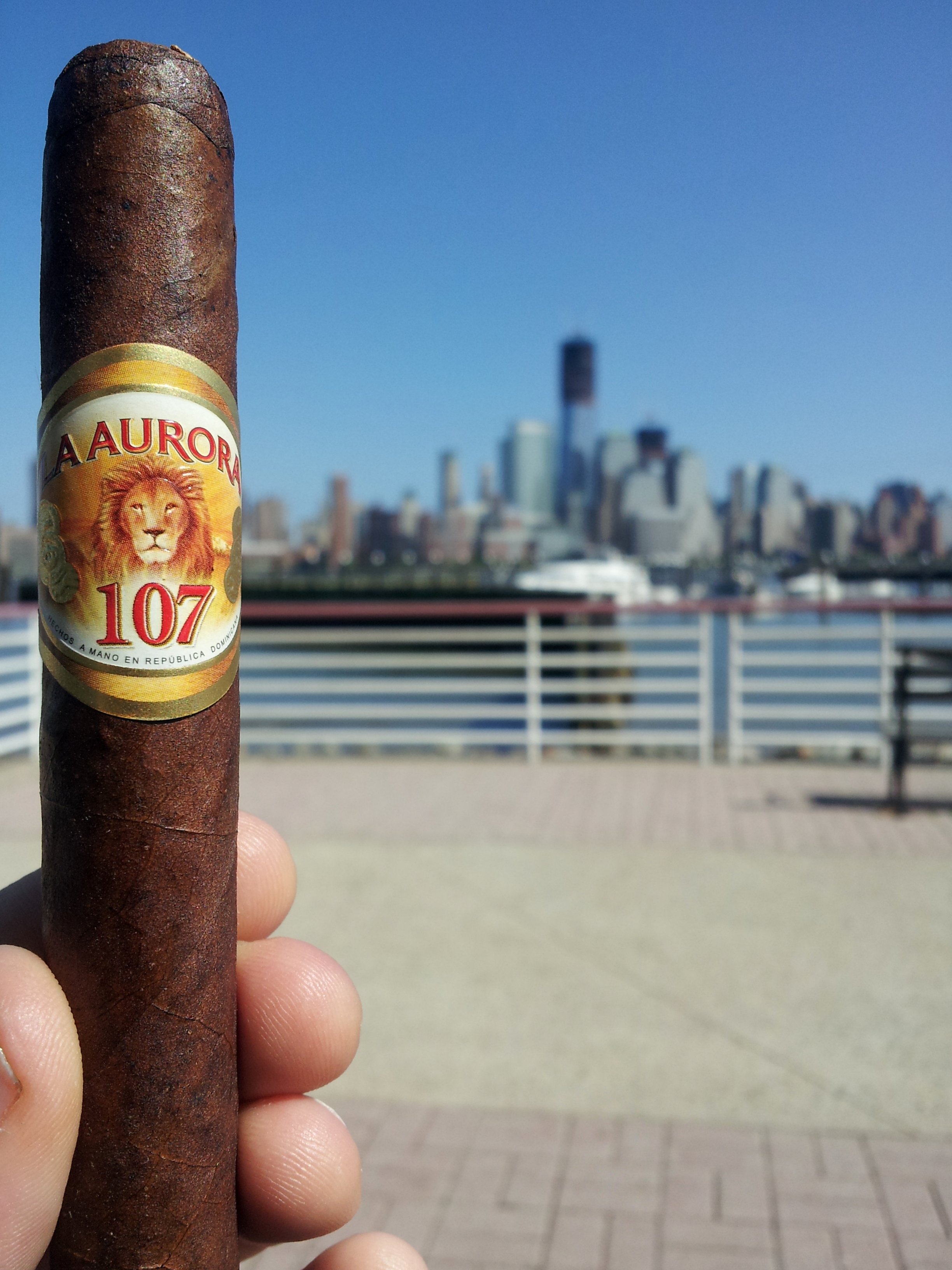 Vitola: Corona (5.5 x 43)
Wrapper: Ecuador
Binder: Dominican Republic
Filler: Dominican Republic/Nicaragua
Appearance & Construction:
I can't say that the construction on this cigar is entirely flawless, but with how beautiful the dark, golden brown Ecuadorian wrapper is, I can't say I care. The cigar invites the smoker in with rich color tones, slight toothiness, oiliness and a rough texture that feels good on the fingers. In fact, the cigar was so inviting that I almost slobbered on it when I put it in my mouth (ok, I admit it: I actually did slobber on the cigar – it smelled that good). It is triple-capped and slightly springy when squeezed gently. The cigar has a beautiful band, with a lion's head taking center stage, flanked by red, white, and gold. The smell of the wrapper is exquisite – notes of sweetness, rich chocolate, and natural tobacco. From what I can tell, the draw on this cigar tends to range from perfect to slightly loose.
Taste & Smoke Characteristics:
The texture of the smoke all throughout this cigar is what I would describe as creamy smoothness. This is interesting considering the spice that builds throughout the cigar. I consider this to be a pretty complex cigar. The cigar opens with a very unique granola, which some reviewers have accurately described as having hints of cinnamon. About half an inch into the cigar, I'm surprised by a very interesting flavor that reminds me of the torched, top layer of creme brulee. Delicious. Throughout the smoke, though, one note eluded me – something like a lightly buttered caramel. As the cigar burns low, the spice picks up pleasantly. Then, the experience is over, and I am sad until I realize I have 5 more in my box.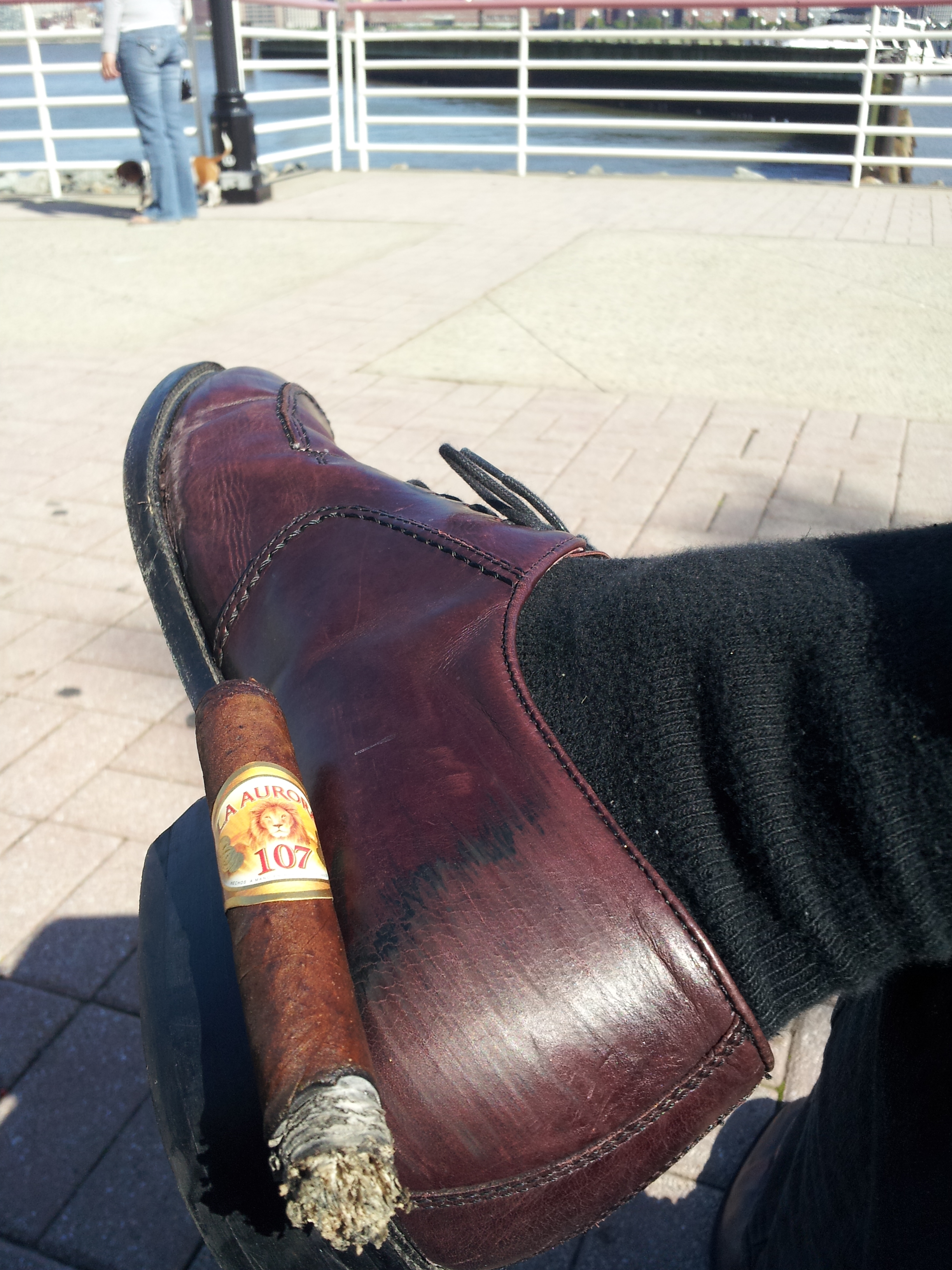 Conclusion:
I would recommend this cigar to anyone. The price point is great, the cigar delivers huge amounts of flavor and complexity while not overwhelming the smoker. I'm looking forward to smoking many more of these.
Final Grade: A