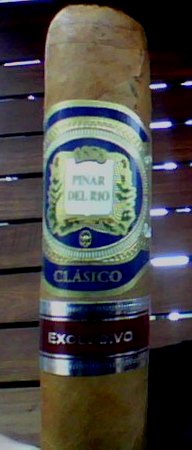 I decided to give the Pinar Del Rio Classico Exclusivo a shot after reading some really positive things about this particular line.  I purchased a 5 pack on Cigar Monster (my favorite cigar site) for $13.  I smoked this stick on my roof with a cup coffee and my favorite smoking music: Putumayo Latin America. Apologies on the photo quality – the camera has gone missing somewhere in my apartment.
Specs:
Wrapper: Ecuadorian Connecticut
Binder: Domican Habano
Filler: Nicaragua & Dominican Republic
Construction/Appearance: I was a bit disappointed with the construction on these cigars. More than a couple watermarks on the light brown Connecticut seed wrapper. Veins, however, were minimal, which could contribute to the great burn this cigar had throughout.  I'm also a huge fan of the labels, the top and larger with "Pinar Del Rio Clasico" in white, gold, and blue. The second, below with "EXCLUSIVO" in silver on a maroon and silver band.  Pre light draw didn't reveal much of anything, and the scent off of the foot was faint, with a mix of grass and woodiness.
Taste/Smoking Characteristics: This cigar kicked off with a harshness that made me a bit worried. About 10 puffs in, however, the harshness dissipated to reveal a very smooth mix of grass and woodiness. Around the second third of the stick I started picking up a bit of nuttiness.  The burn remained very straight throughout the entire stick, with a grey ash. The cigar remained mild in body throughout the smoke.  I was relieved to find for the hour and a half it took to smoke this stick that it never succumbed to the bitterness on the palate that has characterized so many Connecticuts that I've smoked in the past.

Conclusion: For about $5 a piece, or even cheaper elsewhere, this is a great mild body cigar. I'm not a huge fan of cigars this mild, so it was especially hard to stay interested as there wasn't a ton of movement in flavor profile throughout the smoke.  Still, for Connecticut lovers I'd have to say this is a must try cigar.
Final Grade: B+