Announcement, Blog, Cigar Lounge, Culture, Education, Featured, Images, Lifestyle, Luxury, News, Opinion, Smoking Location, Spirits, Top Stories, Uncategorized, Updates, World
Spending a week in Havana with all the that there is to appreciate and explore is easy to do. Since I was only staying for a few days however  I needed to make them count. With my driver and translator with me I set out to the Pinar del Rio region of Cuba to visit local tobacco farms with my main stop being the renowned Robaina Tobacco Farm. Alejandro Robaina was a famed tobacco grower who's tobacco was so prized that in 1997 he was awarded a brand named in his honor called "Vegas Robaina". Sadly Alejandro Robaina passed away in 2009 although his grandson Hiroshi continues with his growing tradition and legacy. If you've never smoked a Vegas Robaina cigar you should as they can be wonderful however do not think you are smoking a cigar directly from the Robaina Farm. This NOT a single estate cigar.  It is merely a blend from many farms created to have a distinct flavor profile for the brand "Vegas Robaina".  This was another reason I was really looking forward to visiting and possibly having the chance to smoke a Finca or "Farm" cigar from the actual Estate.
As you drive up the dirt road to the farm you see a large overhanging sign with the words "Alajandro Robaina 1845" clearly noting the farms history.

Upon entering we were greeted by a guide who explained the history of the farm and Alejandro Robaina's legacy. As we walked we were shown the acres of tobacco growing in the field as well as a special plot of seeds beginning to grow.  We were told  this plot was for something they were still unsure of how it was going to be used or quite possibly they didn't want to tell us.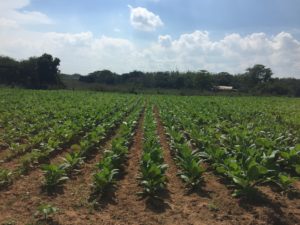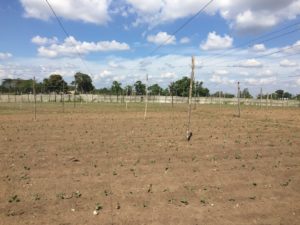 After seeing the tobacco as it was growing our next stop was the curing barn where tobacco is dried and cured after it is harvested.  The tobacco is hung from the barn as seen below.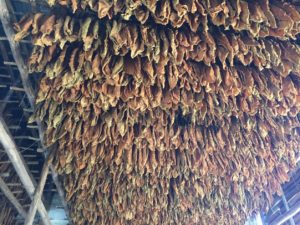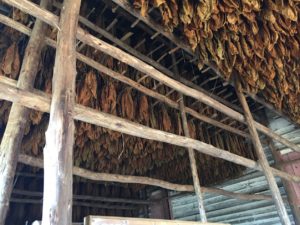 If you have never visited a tobacco farm before seeing the process firsthand gives you an appreciation of the time and care involved in creating this craft product. Our guide highlighted pictures of the various stages of the tobacco process and the journey it takes from seed to cigar.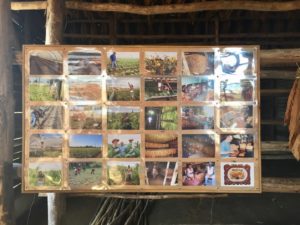 As part of the tour a cigar roller was in the barn rolling a fresh cigar. I was fortunate enough to be the one who was gifted the smoke as it came off the table. As I stated earlier the brand Vegas Robaina is a blend from various tobacco farms used to create the flavor characteristic of the name brand. The cigar I was given was probably the truest expression of a cigar from Alejandro's farm and his tobacco.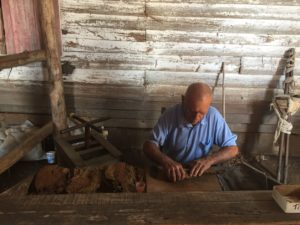 Wrapped in newspaper to aid in drying the fresh tobacco before smoking, a true Robaina cigar:
Next we were taken to the dining area where events are held and an homage to Alejandro is purposefully represented.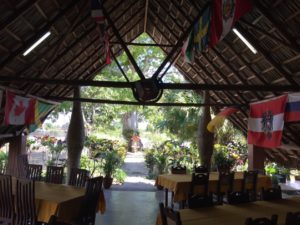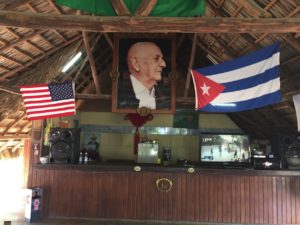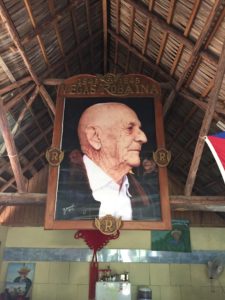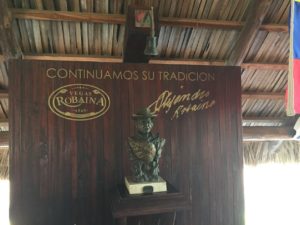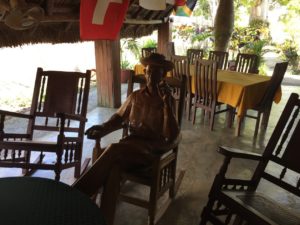 The last stop was the famous rocking chair where Alejandro Robaina was said to sit and smoke. I can only imagine the decades of contemplation and reverence that was put into each harvest day after day year after year. As I headed off in the early afternoon to my next adventure I left feeling a newfound appreciation for the cigar making process as well as how respected Alejandro was in his homeland and the world.