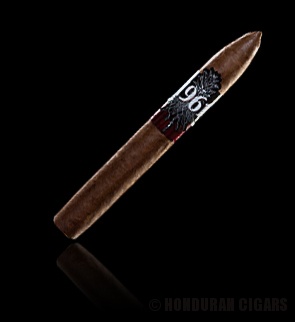 Tonight I reviewed the Rocky Patel 1961. This blend was created to commemorate the year Rocky Patel was born, and I found it to be a medium bodied smoke. Music tonight consisted mainly of hip-hop and alternative/rock: Kid Cudi ("Day and Night"), Kanye West ("Love Lockdown"), John Mayer ("Neon"), Jay-Z ("Run This Town"), Gym Class Heroes, and Flyleaf. Not my usual mix, but I found it to be necessary to have some interesting music on to balance out this decidedly uninteresting cigar.  I didn't have my camera, or even my phone on hand so I ended up using a friend's Macbook to get some shots.
Specifics
Wrapper: Habano (Ecuador)
Binder: Honduran
Filler: Nicaraguan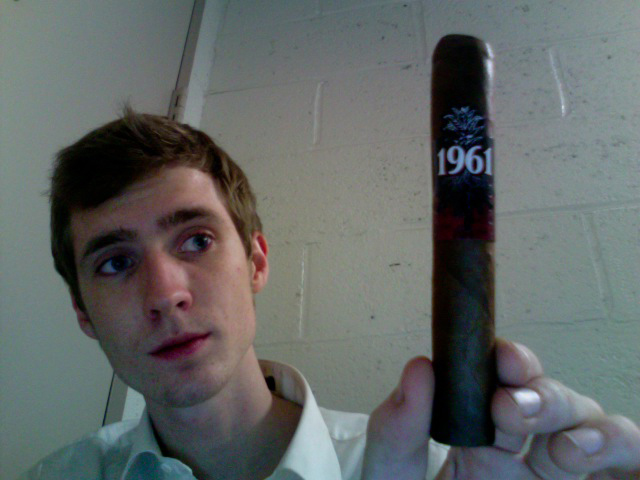 Appearance & Construction:
Fair. The rich brown of the habano wrapper is attractive, and the double-label is, after closer inspection, very detailed and attractive. "1961" is prominently displayed, and below it is a dark red band with the Rocky Patel logo displayed in black.  Aside from that, this cigar is far from exceptional. It had a hard time holding an ash, and the construction needed touch ups multiple times. Draw was a bit too loose, which is surprising because in my experience Rocky Patel cigars are generally very solid when it comes to delivering a very comfortable draw.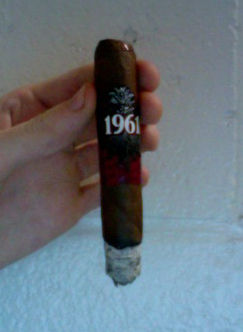 Smoking Characteristics & Taste:
The first third of this stick is hard to describe, mainly because I spent most of the first third trying to gather a discernable flavor profile. The main flavor is a natural tobacco taste, a bit of spice, and a hint of sweetness. Pleasant, but not very notable. On a positive note, this cigar produced large plumes of very smooth smoke consistently throughout.
The second third of this stick is a bit more satisfying. Still the natural tobacco flavor, but a very noticeable cocoa flavor that is very enjoyable. A few minutes later the cocoa becomes more of a semi sweet—not unenjoyable, but kind of sad. The final third of this cigar was more of the same story. Natural tobacco and a bit of cocoa.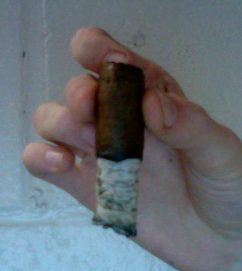 Conclusion: B-
Not a bad cigar, per-se, but this really seems like a RP cigar trying to be the Patel Bros Next Generation (a GREAT cigar). I'm not going to be rushing to pick up more of these anytime soon.