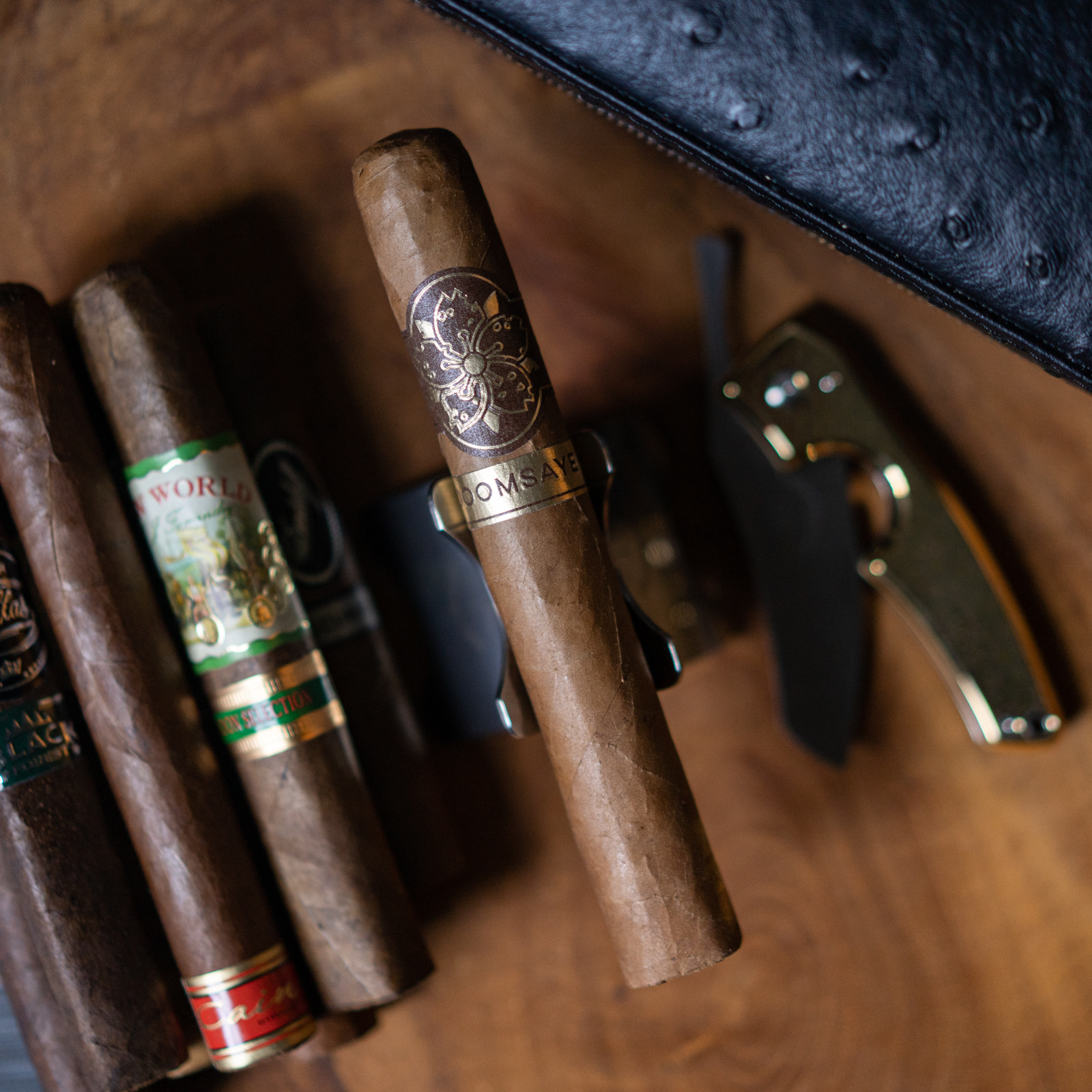 The Room 101 Doomsayer Passive Toro is manufactured in the Dominican Republic By Room 101 Cigars.  Room 101 is a luxury lifestyle brand founded by Matt Booth in Los Angeles California in 2003, initially crafting custom jewelry.  The cigar brand was founded in 2009, and has had help with the manufacturing and distribution phases through a long list of  recognizable cigar industry faces such as Camacho, Davidoff, Caldwell, La Pallina, AJ Fernandez, Adventura, and most recently General Cigars.
Blend Specifics
Cigar Reviewed: Room 101 Doomsayer Passive Toro
Wrapper: Ecuador Habano
Binder: Indonesian
Filler: Honduran, Nicaraguan, Pennsylvania
Size: 6 x 55

Appearance & Construction
Grape and apple harvest in Upstate New York is soon upon us!  I will be busier then ever.  This is a good and a bad thing.  Good, because I make the most income around this time of year.  Bad, because I don't have that much time to smoke.  I've tried to be a tough guy on an apple ladder with a stogie hanging out of my mouth while delicately reaching into the tree of knowledge of good and evil and almost died in the garden of Eden before even having a chance to be cursed and banished for all of eternity.  I'm older and wiser now, plus, haven't you heard silly rabbit? Tricks are for kids! That being said, I binge smoke up until the workload becomes an all-consuming fire.  Review cigars will just have to get included in this offensive troop surge, also known as my "pre-harvest rotation."
Tonight, I curl up next to a gorgeous toro that feels like a baby's breath in my hands.  The construction off-the-bat looks superb, almost like it came out of Perdomo's factory.  For fans of Perdomo cigars, you know exactly what I'm talking about.  The cigar itself has a very sweet cedery aroma, with hints of mint tea with honey.  NOTE: fans of mint tea with honey, know exactly what I'm talking about! The wrapper leaf is a light brown with a rustic countenance.  It has a single cap.
Flavor & Smoke Characteristics
The cold draw is as loose as can be but with tons of weight on the palate.  TONS OF PEPPER! The leaf and construction, as mentioned, are perfect but also delicate.  It doesn't take long to toast and combust the cigar. At first puff, the cigar is very pepper forward. Chili pepper! There are nice hints of baking spice and nougat at times depending on your smoking speed. Nougat on the retro as the cigar heats up. The tobacco keeps my palate wet, and is very reminiscent of drinking chocolate milk. The aroma coming from the foot smells like someone just baked brownies.
The second third opens up like the first day back to school.  The smoke production has been nothing but outstanding so far, but the mouthfeel is chalky with hints of pencil shavings.  There is still this lingering cocoa note.  As it progresses, I'm getting stronger notes of copper pennies, and black coffee.  The pepper which was very dominating throughout, begins to fade.  There is a tongue gripping floral and perfume note. Same on the retrohale. The cigar beigns to burn a little hot, and I take longer pauses in between sips. The foot aroma is similar to birthday cake.
The last third becomes harsh.  I also have some burn issues from the tobacco oils pooling on certain wrapper leaf spots.  The ash was solid on the first third, but for the last two sections, its becoming quite flakey.  Im getting burnt hazelnuts as the only tasting note.  Same on the retrohale. Some hints of cedar off the foot aroma.  The smoke singes my tongue and dries out my palate even after purging the cigar a couople times.  Theres no hope!
Conclusion
The Room 101 Doomsayer Passive Toro reminded me a lot of a spicy corojo cigar with some unusal cupcake shop flavors.  I found the diverse tobacco blending to be quite the experience, until the last third.  It's not that I'm bias towards larger vitolas, but I just hate smoking big cigars that cant go their advertised distance.  I find this to be the case alot of the time.  The MSRP on the Room 101 Doomsayer Passive Toro is quite attractive for a larger well-packed cigar, but there are simply other bargain big sticks more worth your time. They may not be as nuanced, but will defintely burn better on the last half. Enjoy!
Final Score: 79