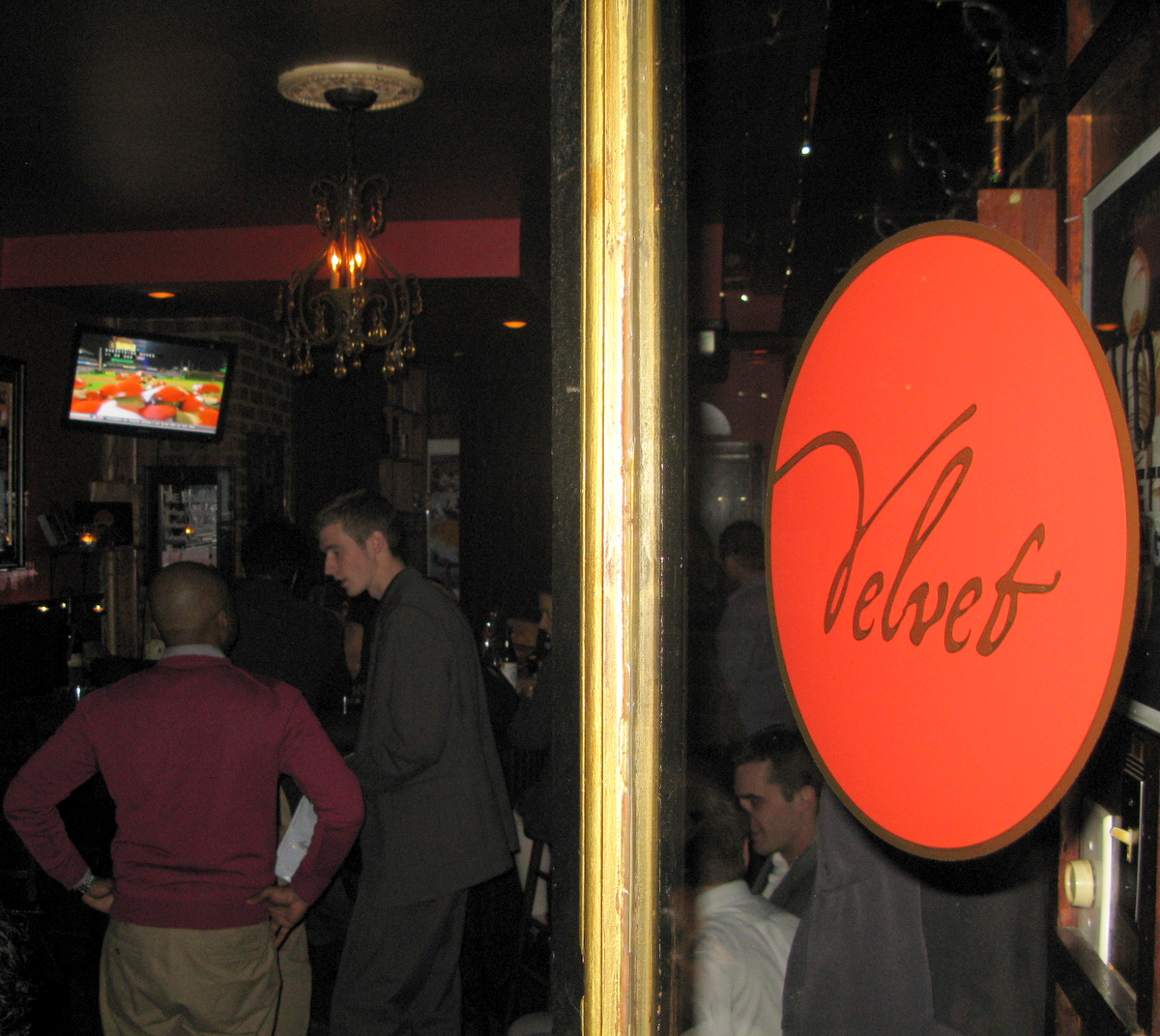 Nestled on 7th street in Manhattan's picturesque Lower East Side is Velvet Cigar, an oasis for the new and experienced cigar smoker. On any given night of the week, a visitor to Velvet Cigar is likely to experience what I have on many occasions. Walking in the door, I am met with the familiar aroma of fine tobacco, the din of friendly conversation, and a welcoming staff. A brief look around reveals exposed brick walls that provide a classic backdrop to dark mahogany wood tones, rustic leather chairs, and dim candles flickering around the room. The lounge could be considered small compared to Manhattan's larger lounges, but don't let the lounge's modest 400 sq. ft. of real estate fool you – Velvet's relaxed atmosphere is hard to beat.  The lounge and its unique boutique blend cigars has won high praise from media outlets like Yelp, Time Out NY, Affluence, MartiniBoys, and StogieReview.com, to name a few.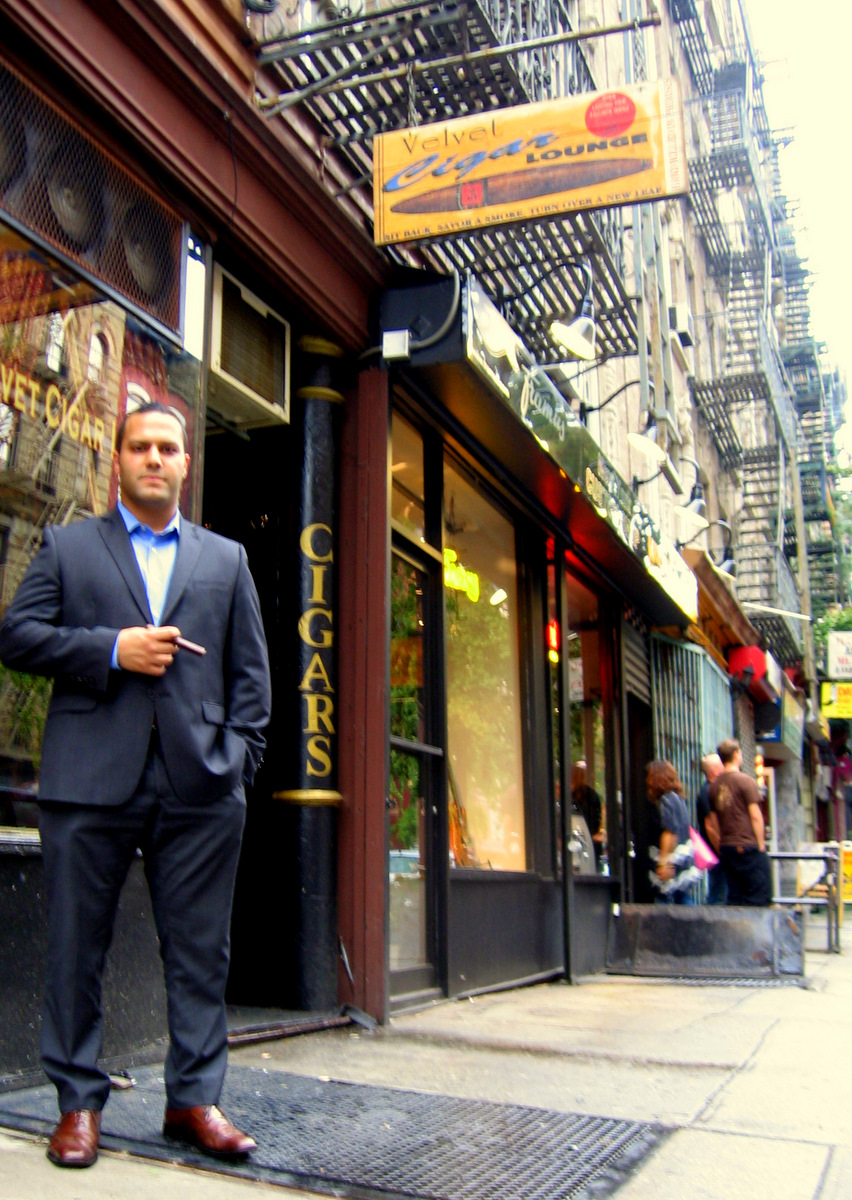 Dan Bsharat – Managing Partner at Velvet Cigar
I recently had the opportunity to sit down for a cigar and conversation with Dan Bsharat, Managing Partner of Velvet, and he described for me a bit of the lounge's history and his business philosophy. I also had a chance to light up a cigar from Velvet's new line, the Bowery – more on that later.
Dan started by telling me a bit about the history of the lounge. Velvet Cigar Lounge existed by the same name before Dan and his business partners purchased the lounge in 2005. After making Velvet a favorite place to hang out, they were inspired to consider buying the lounge after an employee overheard Dan complimenting the lounge's natural charm. The employee mentioned that the lounge was on the market, and the seed was planted.  In Velvet, Dan and his partners saw a golden opportunity because the lounge exemplified cigar culture and the perfect hang out. Soon after, they had purchased the lounge that they now own today.

Dan described the philosophy behind Velvet as a "new approach to cigar smoking for a younger generation." He said that Velvet approaches cigar smoking differently, and that the boutique blends offer paradigms of different cigar tastes by using a variety of wrappers.
Just as inviting as the lounge's warm environment are the humidors that line the high-seated bar.  Although Velvet does have a small selection of big-brand cigars, Dan said that the main focus is on the boutique blend, which until recently featured three main lines named after famous NYC city areas: the Tomkins, Astor, and Cooper blend. These Dominican blends are made by a family owned farm in the Vila Gonzalez region and rolled in New York.
The most recent addition to the Velvet boutique arsenal is the "Bowery" line, named after the famous lower east side neighborhood that Dan said has recently experienced "a revival." Although new on the scene, the Bowery is already Dan's favorite boutique blend (and I must admit the same is true for me after trying each line).
Made in the same Nicaraguan factory that produces quality cigars for Rocky Patel, the Bowery is a real piece of artwork. The Bowery features an Ecuadorian Habano wrapper, Nicaraguan binder, and a blend of Nicaraguan and Honduran tobaccos for fillers, all rolled and produced in a classic box-press style. The Bowery comes in four sizes: Robusto, Toro, Torpedo, and Churchill, and is available in packs of 6 and boxes of 20 online and in-store.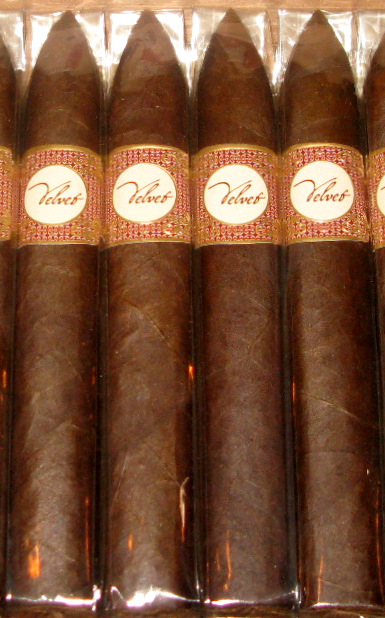 As I mentioned, during my interview with Dan, I had the opportunity to enjoy my third Bowery (Churchill), and whenever possible I jotted down a few notes for a quick review. Fortunately, I have realized since the interview that notes on the cigar were not really necessary as it had a distinct flavor profile that provided for a memorable smoke. Below is my review of the cigar:
———————————
Pre-light: There really is no other way to say it: the Bowery is a beautiful cigar. The dark Habano wrapper is complimented perfectly by the dark red and gold label that displays the Velvet logo.   Admittedly, I've only had three of these sticks so far, but from what I've observed construction has been impeccable – well packed, no serious vein issues, and no visual blemishes. The foot of the cigarsmells of mocha, and a hint of sweetness.
Smoking characteristics: The draw was just about right – a tiny bit tight, but still a great amount of smoke. This stick is a medium-full bodied smoke, though for the most part I found it to be medium.
Flavor: To me, the first two third of this cigar are the most distinct. This cigar opened up with tastes of spice, mocha, and woodiness.  I found that the spice on this particular cigar started off pretty strong, but as I started 2/3 the spiciness faded into the background while the mocha and woodiness started to really stand out.   From there the stick smoked perfectly. During the end of 2/3 and beginning of 3/3 I noticed a bit of leather coming through along with pepper.  Ultimately, the flavor profile on this cigar has really captured me – it is simply a delicious stick.
Overall impression: This cigar is beautiful, well constructed, and packs a great and distinctive taste. I didn't have any burn issues during the smoke, and enjoyed it all of the way through.  Even though this particular line is more expensive than Velvet's other blends, this will probably be my standard pick during my visits to Velvet.
———————————
I've always enjoyed business and love to see thriving new organizations expand, so after visiting Velvet at least a dozen times in the past two years, one of the biggest questions I had for Dan near the end of the interview was "where does Velvet go from here?" Taking a moment to think, he cracked a smile and said that "expansion is on the table" and that another lounge is a "possible option." He went on to explain, however, that the owners of Velvet are focusing on expanding their business contacts and looking for ways to network around the city to make their cigars more widely available. As I'm not always near the Lower East Side, I hope he makes it happen!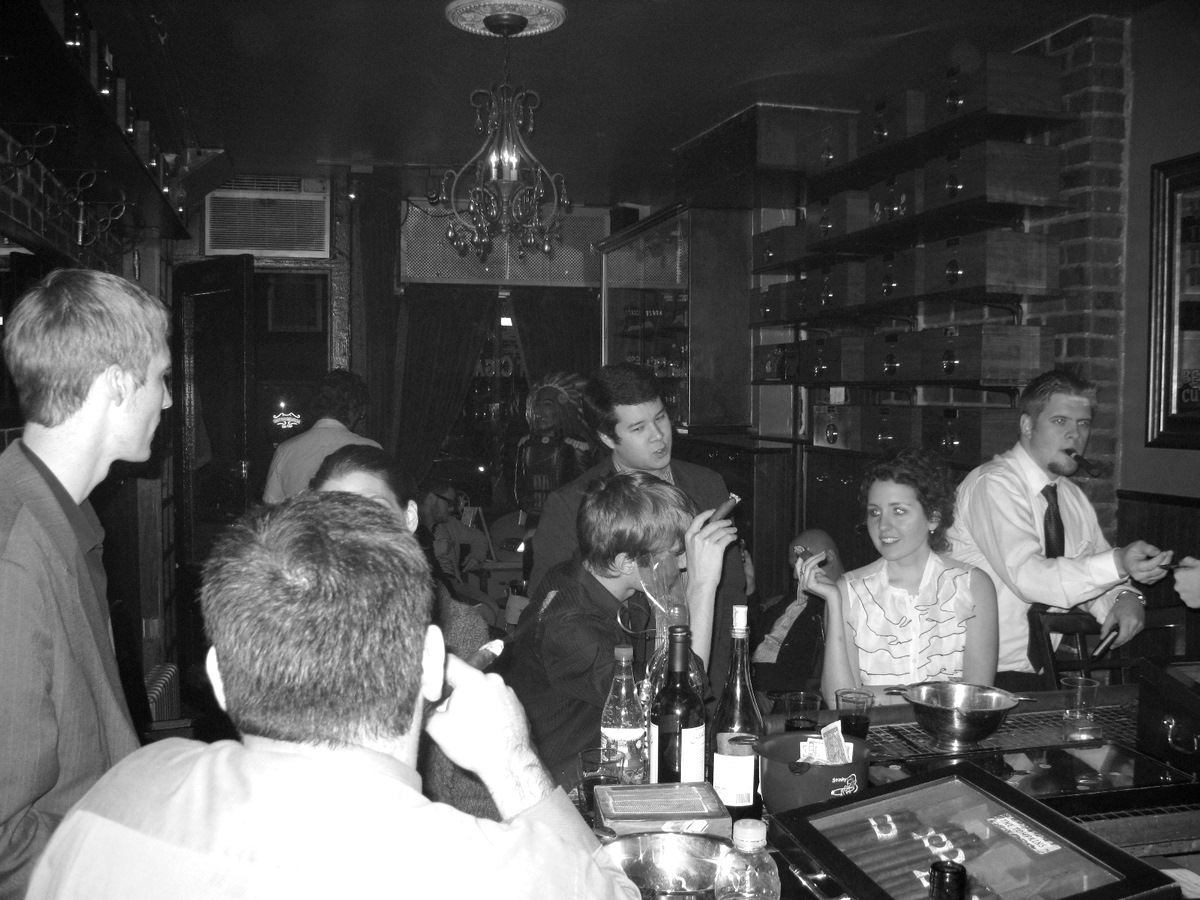 If you haven't visited Velvet cigars, then put it high on your priority of night life attractions to see in New York City!  The Bowery can be found for order at Velvet Lounge and online at the Velvet Cigar site.