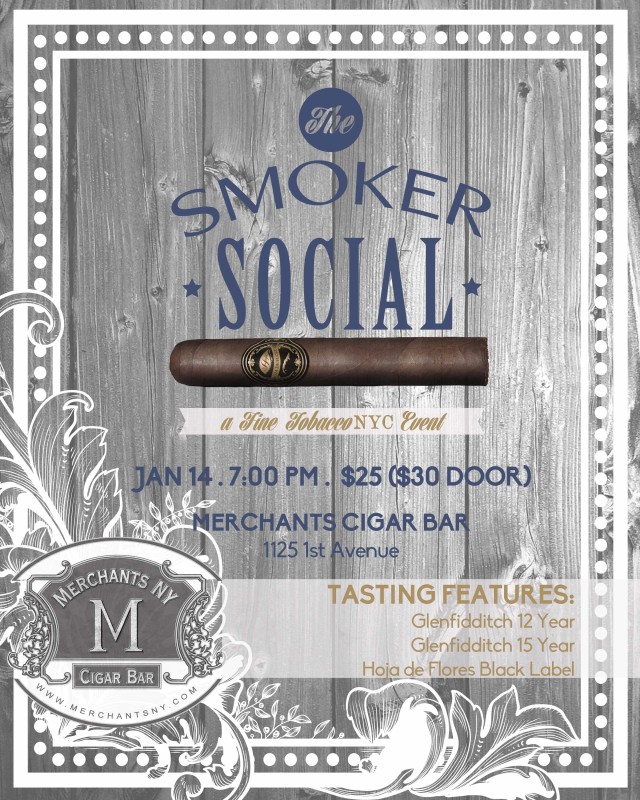 We're proud to announce our first cigar event of 2014! On January 14th, come in out of the cold and celebrate with a glass of Glenfiddich 15 and a Hoja de Flores Black Label cigar.
"The Smoker Social" will start at 7:00pm and take place at Merchants NY Cigar Lounge, an iconoic New York City venue that has supported our events since late 2013. We're excited to be working with management at Merchants to bring you another epic event. You can see photos of our last Smoker Social here, where we had Turei Cigars and Brugal 1888 sponsoring.
The event will also feature live music, raffle giveaways, the Hoja Flores models, and much more.
Ticket price is $25 online and $30 at the door. Each guest will receive:
1 glass Glenfiddich 12 Year Single Malt Whisky
1 glass Glenfiddich 15 Year Single Malt Whisky
1 Hoja de Flores Black Label torpedo
Raffle entry
We're very grateful to all our sponsors, and look forward to seeing you at the event!
Best,
Matthias Clock
Founder, FineTobaccoNYC