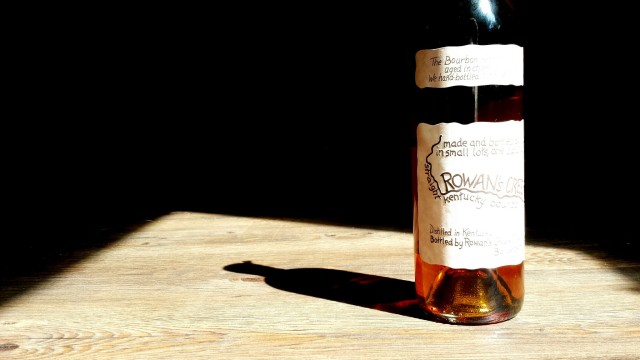 My Bourbon Journey continues with Rowan's Creek Bourbon. I was looking for an aggressive bourbon at a great price point, and this bottle of Rowan's Creek was my gamble. What a good gamble it was. At 100.1 proof, this bourbon packs a punch, but at just $38 in New York City, this is easily one of my top 5 bourbons. I picked this whiskey up at my new favorite local liquor store in Crown Heights: Liquor Warehouse, on Bergen St. and Washington Ave.  Now for the review…

Product Information
Spirit Type: Kentucky Straight Bourbon Whiskey
Producer: Kentucky Bourbon Distillers (KBD)
website: http://www.kentuckybourbonwhiskey.com/whiskeys.html
Origin: Kentucky, United States
Age: 12 Years
ABV: 50%
Price: ~$38
Reviewed: Neat
Nose
In order of prominence: Caramel, vanilla, honey, rye spice, and cinnamon.
Taste
Plenty of spice present in this whiskey. Spicy upfront that quickly transforms into a thick flavor profile that coats the palate, with notes of caramel, slight butteriness, oak, and honey. Very good. A couple of drops of water bring the spice down and really help the caramel and vanilla to come through quite a bit more.  A complex but accessible whiskey.
Finish
Medium length finish, with caramel and vanilla. I also notice some confectionery notes as well that quickly disappear.
Conclusion
I really enjoy this bourbon. I've found it pretty difficult to find a bourbon that pairs well with a powerful cigar at a reasonable price. Rowan's Creek bourbon absolutely hits the mark here, and at just $38 a bottle I'll be back for more.
Final Grade: A (strong buy)