For those of you who are unaware Pete Johnson of Tatuaje has been making monster movie themed cigars since his first hit debut "The Frank" which was in my opinion one of the best Pepin made sticks created. I remember when I was able to purchase as many dress boxes as I wanted before these got to be collectors items and I am glad I picked up a few. These are now sought after smokes commanding outrageous prices. I have been fortunate enough to smoke all the Monster series and think "The Boris" is the next best AND I think it has aged better than any other. If you find one grab it. But enough about my reminiscing, let's get to the latest stick. I just smoked the new Tatuaje JV13 or "Jason" for the famed "Friday The 13th" movies and here are my thoughts. Enjoy!

Cigar: Tatuaje JV13 "The Jason"
Blend specifics
7 1/2″ x 52
Wrapper: Connecticut Broadleaf
Binder: Nicaragua
Filler: Nicaragua
Vitola: Double Corona
Appearance & Construction
This cigar sports a sharp dark red label with the Tatuaje name and "Monster" written in black. A beautiful contrast to the dark chocolate wraper. Very well constructed with no soft spots and seemingly full of tobacco. Smells of earthy, sweet, leather, hay.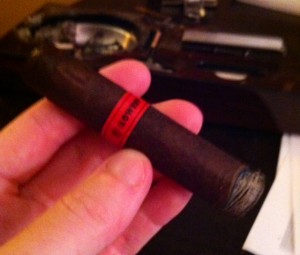 Taste & Smoking Characteristics
The draw dry yields earth,hay and wood. Upon lighting the earthy flavors take the forefront with slight oak and dryness of leather. The smoke is hefty to start with a strong body of flavors rolling around the tongue. More of the oak continues with a bit of espresso, vanilla and earth intermingling throughout. There is a bit of black pepper midway on the palate and a rush of spice on the retrohale. Lots of wood/oak flavors on the finish with continuing leather on the sides of the mouth. The cigar continues to a medium body with changes of sweet and even savory like that of sweetbreads.  Towards the last third a bit of the barnyard twang comes forward with a companion of earth and hay. The strength wanes a bit and the oak, barnyard and leather flavors continue. The cigar finishes with a bit of sweetness and ends on a medium note. A thoroughly enjoyable cigar.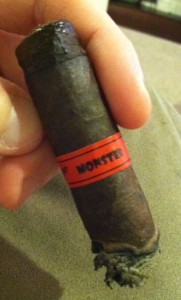 Conclusion
The Tatuaje Jason was not the most complex cigar as it stuck mainly to sweet, leather, hay and oak however I enjoy all these flavors together when not overpowering. The Jason succeeded in being a medium to full cigar with a perfect balance of all these flavors. I haven't loved all the monster releases although now I will say that the JV13 is my third favorite. The Frank when it was released was number one although in the past 3 years it has waned dramatically. The Boris is my second even though it's technically a monster "unmasked" cigar but now the JV13 is my 3rd. The big question is will it wither and die like Frankenstein did or will it live on for more features like Boris? Who knows horror fans but for now get a piece of Jason before he gets you!