So what cigar do you smoke after a gastronomic journey at the 3 Michelin starred Brooklyn Fare? You need something as balanced and complex as the twenty-three courses Chef Ramirez executes perfectly. Enter:The Cohiba Pirámides Extra. This cigar capped my evening by continuing to leave flavors lingering on my palate akin to the dishes I was served. Here is the skinny on the not so thin Pirámides Extra:

Blend specifics
Size: 6 5/16 x 54 Pirámides Extra
Wrapper: Cuba
Binder: Cuba
Filler: Cuba

Appearance & Construction
The cigar is expertly constructed and a fine example of the vitola. The Pirámides Extra sports a beautiful brown wrapper that shines with a velvety smooth texture. The cigar feels nicely packed with tobacco and the smell at the foot is earthy, sweet and cedary. The dry draw yields saltiness along with cedar and wood notes. The saltiness and cedar in this Cohiba is an experience I really enjoy in Cuban cigars.

Taste & Smoke Characteristics
Upon lighting the cigar it hits you with saltiness on the draw along with spice and black pepper on the nose. The finish smacked of leather and lingered on the palate. Within the first few puffs I was already pleased with the flavor profile. At this point you could already tell this was quality aged tobacco. Midway the cigar turned from spice to creamy nuttiness with an earthy finish. As the cigar progressed the interplay of leather and earth came through with a nice weight on the tongue. The balance of this cigar was superb. The final third rounded out the cigar with some of the initial spice and pepper returning along with the classic cedar and earth characteristics of the brand.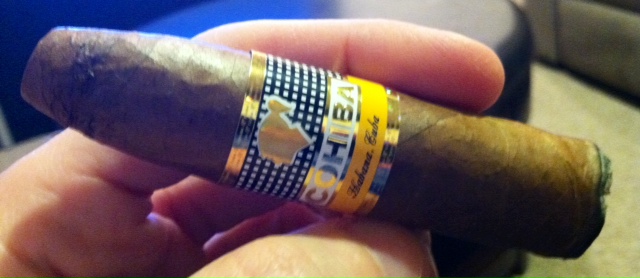 Conclusion
Overall this is a very complex and balanced medium to full bodied cigar. The spice, leather, earth and long finish demonstrates what Cuba can do when they work their tobacco well. Cohiba is the iconic brand of the country and this cigar shows it. My only issue was some bitterness as I nubbed it but that was my fault due to smoking it too fast. My enjoyment of all the flavors got the best of me which isn't the worst thing. I've  had the fortune to smoke Cohiba Gran Reserva's, 1966's, Behikes, Milleniums and some truly rare Cohibas; some of these smokes were worthy of the price tag and some were not. The Cohiba Pirámides Extra is one of those cigars that will not disappoint if you make the investment. Enjoy.